The 4th China Pet Industry High Quality Development Forum in 2022 was held
Views: 14 Author: Favorpaw Publish Time: 2022-11-25 Origin: Blog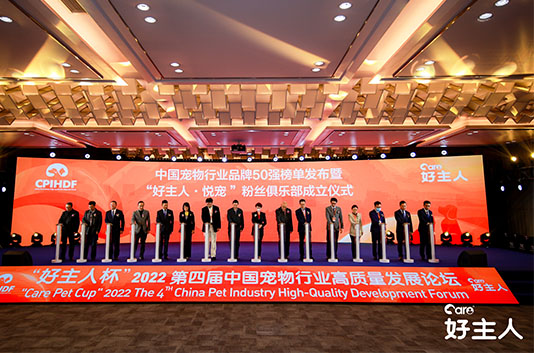 "Content: On November 18th, the 4th China Pet Industry High Quality Development Forum in 2022 was held at Tongwei International Center with the theme of "Good Owners Cup", supported by the Pet Industry Branch of our Chamber of Commerce .Director of the National Animal Husbandry Station of the Ministry of Agriculture and Rural Affairs, Secretary General of China Feed Industry Association Wang Zongli, Vice Chairman of the Ninth Sichuan Federation of Industry and Commerce Qian Weidong, President of Tongwei Group Zhu Yujiao, former Deputy Director and Party Group of Sichuan Quality and Technical Supervision Bureau Member, Jin Dongsheng, executive vice president of Sichuan Quality Supervision Association, Xin Shengpeng, vice president and secretary general of China Veterinary Association, and Chen Ying, director of the Grain and Oil Department of China Chamber of Commerce for Import and Export of Foodstuffs, Native Animals and Animals and secretary general of the Pet Industry Branch, delivered speeches respectively.
This conference grandly released the list of "Top 50 Chinese Pet Industry Brands", and Qian Weidong, the ninth vice chairman of Sichuan Federation of Industry and Commerce, announced the release speech. The inauguration ceremony of the "Good Owner, Happy Pet" fan club was held at the forum, aiming to integrate all resources, build a professional platform, convey more scientific pet raising concepts to fans, provide better pet products and services, and work together to promote The industry develops faster and better.
Yin Yulong, Academician of the Chinese Academy of Engineering, Director of the Animal Husbandry and Healthy Breeding Center of the Institute of Subtropical Agricultural Ecology, Chinese Academy of Sciences, Lin Degui, Chairman of the China Small Animal Medicine Conference, Professor of the School of Veterinary Medicine of China Agricultural University, Cao Shengbo, Professor of Huazhong Agricultural University, Ding, Dean of the Animal Hospital of Huazhong Agricultural University Star, Wang Jinquan, chief expert of the pet nutrition and food science innovation team of the Feed Research Institute of the Chinese Academy of Agricultural Sciences, Yang Honghai, general manager of Chengdu Good Master Pet Food Co., Ltd. and other experts, scholars and business representatives gave keynote speeches on hot topics such as pet food safety and quality improvement. Share and exchange cutting-edge technologies and safety concepts, pool wisdom and strength, and help the high-quality development of the pet industry.
During the forum, the organizing committee organized guests, industry colleagues, and media representatives to visit the Tongwei Group Experience Center, Good Master Company, and Tongwei Solar Energy Shuangliu Base, and invited KOLs to enter the Good Master factory to carry out live broadcasts and deliver goods to consumers. The company's development concept of "quality first and quality first" injects new momentum into the high-quality development of China's pet food industry. "